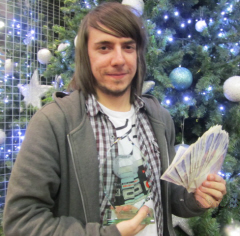 Sunday 4th December 2011
Time: 2:00pm
Venue: Circus Casino
Where: Birmingham
No. of Players: 163
Regional Final Winner: Michael Nowak
Red Lion, Kings Heath
Team Event Winner: Hamstead, Birmingham
Jagdeep Samira
Darren Haywood
Steven Avery
The Story…
Some individuals chase kings, but is the chase kosher? We poker players ask ourselves many questions and none are more confusing than how on earth a short stack of four and a half blinds takes down a final table of ten, winning with 7-3 along the way, but more of that later.
To the CIRCUS CASINO, STAR CITY, BIRMINGHAM we went on a damp and dull day in December where 163 of the West Midlands finest pub players competed for their share of the prize money and those all important seats for the National Final at Dusk Til Dawn next year.
Our final ten included the lovely LYNNE ROZIER but sadly she was first to depart the final table, promptly followed by RICKY WHEAVER who, might I add, was lucky to still be in the tournament having taken his chips with him for the final table break! ROLAND KIMBERLEY was the very unfortunate bubble when he ran in to ACES for the second time that day. We all knew it was the second time because he went on and on and on about it for about an hour after busting out…..next time Roland. Chin up son.
There followed some to and fro of chips amidst some very tight play. So tight in fact that most of the on lookers resorted to reading leaflets. Eventually there were four runners left, though quite how SPIKE CLIFFORD could actually see his cards after consuming upward of twenty pints is anybodies guess. Still, after numerous attempts to get the attention of a waitress failed he decided to go all in with nonsense in order to get a pint and have a cig. Well done that man and I look forward to the pint you promised me at the National Final!
And then there were three.
JOHN JACKSON did his best to make use of his not insubstantial stack (ooh err!), but sadly he didn't last long leaving NICK 'shaky hands' BANCROFT and MICHAEL 'words fail me' NOWAK to fight out the heads up. NOWAK had come to the final table with less than five big blinds and somehow the poker gods deemed him worthy of a shot at the title. Our final two had agreed a chop of the winnings so we settled down for the final battle. To say NOWAK has more suck on him than a Dyson upright would be an understatement, though when it all came down to the final hand Mr Bancroft (who wouldn't have looked out of place on University Challenge!) had played a rather hopeful 3 4 suited and unluckily hit the lower end of the straight that finally won it for NOWAK and his amazing vacuum attachments.
Needless to say a fab time was had by all. More of the same next time, but leave the vacuuming to the house cleaners please.
Cash Prize Winners
1. Michael Nowak – Red Lion, Kings Heath
2. Nick Bancroft – St Stephens WMC, Worcester
3. John Jackson – Blackpole, Worcester
4. Mark Perry – Albion, Wolverhampton
5. Spike Clifford – Village Inn, Birmingham
6. Jim McSweeney – Limetree WMC, Coventry
7. John Redman – Temple Laugherne House, Worcester
8. Roland Kimberley – Bulls Head, Kings Norton
National Final Qualifiers
Michael Nowak
Nick Bancroft
John Jackson
Mark Perry
Spike Clifford
Jim McSweeney
John Redman