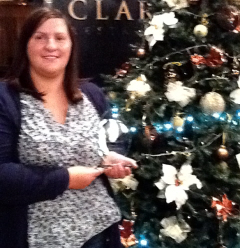 Ladies Day at Aspers
160 players took their seats promptly at 2.00pm for the 3rd quarterly Redtooth Central Regional Final at Asper's Casino, Northampton.
The, by now, traditional round of applause and collective sigh of relief was a long time coming this time around, eventually though Martin Lynch of Kingsley Park WMC was the first to be eliminated – he was closely followed by Phil Parker of the Moorhen, Peterborough.
Three players had qualified for the Regional Final via the popular online Redtooth Tavern, Alex Tuzinkiewicz, Andrew Edwards and Chris Tuzinkiewicz, all three players also compete at The Haywain, St Ives, unfortunately their online skills did not pay off with Alex being the highest placed of the trio in 79th place.
After the break the blinds started to take their toll and by about half past five the team tournament trophy had been decided with the winning threesome being, Liz 'Skippy' Shipton, Carol Jenkins and Nikki Wycislik representing the Rose & Crown (Wednesday), Hemel Hempstead. Congratulations girls, the first time the team trophy has been won by a team of ladies.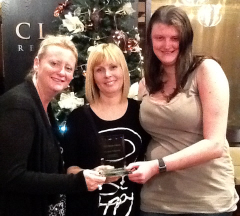 All nine players who reached the final table automatically qualified for the National Final as Lisa Greer had already qualified for the event at a previous quarterly final.
In a fiercely contested final table the casualties fell surprisingly quickly – in 9th place was Colin Booth from The Lion, Gt Yarmouth, in 8th was Michael Heindel, White Hart Hotel, Buckingham, 7th was Daniel Souster, Brave Old Oak, Towcester, 6th Richard Leeson, Auctioneers, Northampton, 5th Neil Lancaster, Brave Old Oak, Towcester, 4th Jason Thompson, the Dolphin,Thetford, 3rd Ricky Schafter, Rovers Tye (Sunday), Colchester.
Heads up the final two swapped chips before Andrew Stewart of the Crown, Claydon eventually ran out of luck against Lisa Greer from The Old Punch House, Ware to complete a very successful day for the ladies!
Cash Prize Winners
1. Lisa Greer – The Old Punch House, Ware (Already Qualified)
2. Andrew Stewart – Crown, Claydon
3. Ricky Schafter – Rovers Tye, Colchester
4. Jason Thompson – Dolphin, Thetford
5. Neil Lancaster – Brave Old Oak, Towcester
6. Richard Leeson – Auctioneers, Northampton
7. Daniel Souster – Brave Old Oak, Towcester
8. Michael Heindel – White Hart Hotel, Buckingham
National Final Qualifiers
Andrew Stewart
Ricky Schafter
Jason Thompson
Neil Lancaster
Richard Leeson
Daniel Souster
Michael Heindel
Colin Booth