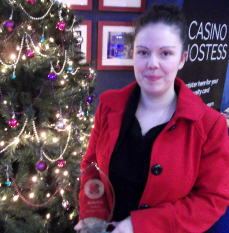 Sunday 11th December 2011
Time: 2:00pm
Venue: Circus Casino
Where: Liverpool
No. of Players: 126
National Final Qualifiers: 6
Prize-pool: £1,000
Regional Final Winner: Tarra Moore
Hartford Hall, Northwich
Team Event Winner: Mulberry Tree, Warrington
Micheal Lindop
Danny Lummis
Gary Wilson
The Carnage…
The Circus Casino in Liverpool hosted their second North West Two regional final as 124 poker players sat down hoping to become the latest champion. After 30 minutes we finally had our first casualty. Liam Chapman from the St Anne's Conservative Club hit the rail first after turning up 15 minutes late, due to a long drive from Blackpool! We feel Liam's probably had better days! This triggered a spate of eliminations as the first break neared.
The team event became a three way shoot out between the Old England, the Seven Woods and the Mulberry Tree. The Old England were the first to be eliminated leaving two of our Warrington venues to battle it out, with the Seven Woods looking for their second team event trophy. Unfortunately for the Seven Woods, all three representatives were out within 4 places of each other to give the Mulberry Tree their first team event trophy. Congratulations to their two finalists Gary Wilson, Danny Lummis and league champ Micheal Lindop.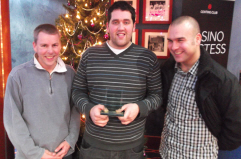 The Final Table…
Seat 1: Gary Wild – Old England, Blackpool (105,000)
Seat 2: Stuart Bellis – Hartford Hall, Northwich (80,000)
Seat 3: Ciaran Whelan – Farmers Arms, Liverpool (130,000)
Seat 4: Gary Wilson – Mulberry Tree, Warrington (140,000)
Seat 5: Tarra Moore – Hartford Hall, Northwich (25,000)
Seat 6: Ciaran Curran – Swan Hotel, Prenton (40,000)
Seat 7: Simon Costin – Bears Paw, Frodsham (20,000)
Seat 8: Danny Lummis – Mulberry Tree, Warrington (160,000)
Seat 9: Keiran Bill Goldson – Halton Castle, Ormskirk (50,000)
With only eight positions paid there would be one more player to leave empty handed. After around 10 minutes of play it was Kieran Bill Goldson who got himself into an unfortunate situation and left us in 9th place. This elimination soon brought us to the six national final qualifers which was largely dominated by the Hartford Hall and Mulberry Tree. As soon as Redtooth young gun Ciaran Whelan left us in 3rd place we had our heads-up contest between two of our shorter stacks Tarra Moore and Ciaran Curran. The heads-up match barely lasted half a dozen hands as Tarra Swept Ciaran aside to become our new North West Two champion and take home £500 and a crystal glass trophy.
The Winners…
Cash Prize Winners
1. Tarra Moore – Hartford Hall, Northwich
2. Ciaran Curran – Swan Hotel, Prenton
3. Ciaran Whelan – Farmers Arms, Liverpool
4. Gary Wilson – Mulberry Tree, Warrington
5. Danny Lummis – Mulberry Tree, Warrington
6. Stuart Bellis – Hartford Hall, Northwich
7. Gary Wild – Old England, Blackpool
8. Simon Costin – Bears Paw, Frodsham
National Final Qualifiers
Tarra Moore
Ciaran Curran
Ciaran Whelan
Gary Wilson
Danny Lummis
Stuart Bellis