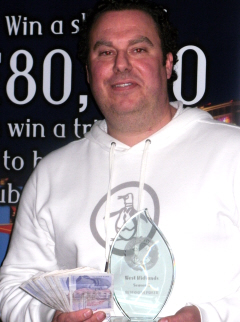 Sunday 11th December 2011
Time: 2:00pm
Venue: Circus Casino
Where: Birmingham
No. of Players: 174
National Final Qualifiers: 8
Prize-pool: £1,000
Regional Final Winner: Stu Lees
Round Oak, Wolverhampton
Team Event Winner: Wheatpieces, Tewkesbury
Pete Brocklehurst
Graham Wallace
Matt Gardiner
The Carnage…
The Circus Casino in Birmingham was the place to be as lady luck shone brightly on another West Midlander. Last season's champion made a good fist of his defence as Sam Round finished in a very respectable 28th position. It wasn't the best of days for best buddies Martyn Everitt and Dean Piper as they went out very early on at almost the exact same time. Martyn left us in 167th position and Dean obviously couldn't imagine seeing his friend carry the TWO trophies he won by himself, so he promptly left us in 166th position. What a friend! Last season's team champs were out of the running this season so a new winner was crowned in the form of the Wheatpieces in Tewkesbury. A big congratulations to Pete Brocklehurst, Graham Wallace and Matt Gardiner.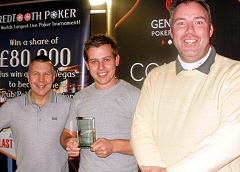 The Final Table…
Seat 1: Graham Wallace – Wheatpieces, Tewkesbury (105,000)
Seat 2: Chris Roberts – National Hunt, Cheltenham (24,000)
Seat 3: Stu Lees – Round Oak, Wolverhampton (88,000)
Seat 4: Chris Histead – Master Potter, Cheadle (46,000)
Seat 5: Pete Brocklehurst – Wheatpieces, Tewkesbury (95,000)
Seat 6: Aaron Ali – Journeys End, Birmingham (100,000)
Seat 7: Malcolm Britton – Bear & Staff, Birmingham (110,000)
Seat 8: Steve Thompson – Union, Kingswinford (151,000)
Seat 9: Pat Buchanan – Raven, Birmingham (57,000)
Seat 10: Mick Freeman – Phantom Coach, Coventry (129,000)
The lads from the Wheatpieces certainly had a day to remember as not only did they win the team event, they also ended up with two national finalists in Graham Wallace and Pete Brocklehurst as they finished in 7th and 8th respectively. The heads-up encounter was between Stu Lees and Aaron Ali in a Wolverhampton vs. Birmingham showdown. Wolverhampton triumphed on this occasion as Stu Lees took down the West Midlands Two regional final when his A-J kept it's slender lead over Aaron's K-8 on a 10-4-J-4-Q board.
The Winners…
Cash Prize Winners
1. Stu Lees – Round Oak, Wolverhampton
2. Aaron Ali – Journeys End, Birmingham
3. Pat Buchanan – Raven, Birmingham
4. Steve Thompson – Union, Kingswinford
5. Chris Roberts – National Hunt, Cheltenham
6. Malcolm Britton – Bear & Staff, Birmingham
7. Graham Wallace – Wheatpieces, Tewkesbury
8. Pete Brocklehurst – Wheatpieces, Tewkesbury
National Final Qualifiers
Stu Lees
Aaron Ali
Pat Buchanan
Steve Thompson
Chris Roberts
Malcolm Britton
Graham Wallace
Pete Brocklehurst