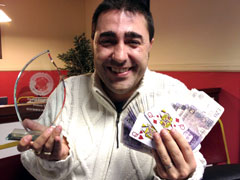 Sunday 11th December 2011
Time: 2:00pm
Venue: Shuffles
Where: Portsmouth
No. of Players: 123
National Final Qualifiers: 6
Prize-pool: £1,000
Regional Final Winner: Antonio Prado
Salterns Working Mens Club, Southampton
Team Event Winner: Moby Dicks, Weymouth
Peter Dark
Andy Seymour
Vicky Butterworth
The Carnage…
A number of poker players descended onto Shuffles in Portsmouth for what turned out to be another successful South England regional final. Paul Turner, who had won the regional final on the last two visits had failed to qualify this time around so there was to be no first Redtooth hat-trick. However, another 123 players were ready to take the crown. All hope was soon lost for Mark Dean, James Jackaman and Pete Allen as they were amongst the first group to hit the rail. After the break the numbers dwindled as we approached a new South England team champion. The ever present Half Moon in Crawley had to relinquish their crown with all three players failing to make the top 60 places. This paved the way for the Moby Dicks to take over as our South England champs with three top 35 finishers and a finalist in Andy Seymour. Andy was backed up well by Peter Dark and Vicky Butterworth.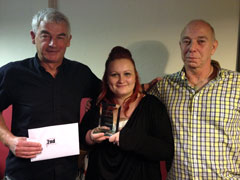 The Final Table…
Seat 1: Martin Taylor – Red Lion, Poole (71,500)
Seat 2: Claire Hine – Testwood Hotel, Southampton (18,000)
Seat 3: Alec Pupkis – Swans, Verwood (57,500)
Seat 4: Andy Seymour – Moby Dicks, Weymouth (111,500)
Seat 5: Paul Seidenstucker – Red Lion, Stubbington (72,000)
Seat 6: Mervyn Allen – Salmon Leap, Southampton (125,000).
Seat 7: Antonio Prado – Salterns Working Mens Club, Southampton (50,000)
Seat 8: Dave Fry – Famous Old Pines, Bournemouth (32,000)
Seat 9: Gary Hulks – Old House at Home, Havant (55,000)
Seat 10: Paul Elkins – Swallow, Andover (28,000)
As the final table began the tension could be felt all over the card room. Martin Taylor was the first player to exit and he was soon followed by Claire Hine and Paul Seidenstucker. With Paul Elkins already in the national final the top 7 would all be on their way to Nottingham next March. Gary Hulks, Dave Fry, Mervyn Allen, Alec Pupkis joined Paul along with our two heads-up contenders Antonio Prado and Andy Seymour. The heads-up match was over all over once Antonio was dealt Q-Q and Andy K-J. An unlucky situation for Andy and with a board of 4-2-9-10-10 Antonio was our new South England poker champion.
The Winners…
Cash Prize Winners
1. Antonio Prado – Salterns Working Mens Club, Southampton
2. Andy Seymour – Moby Dicks, Weymouth
3. Paul Elkins – Swallow, Andover (Already Qualified)
4. Alec Pupkis – Swans, Verwood
5. Mervyn Allen – Salmon Leap, Southampton
6. Dave Fry – Famous Old Pines, Bournemouth
7. Gary Hulks – Old House at Home, Havant
8. Paul Seidenstucker – Red Lion, Stubbington
National Final Qualifiers
Antonio Prado
Andy Seymour
Alec Pupkis
Mervyn Allen
Dave Fry
Gary Hulks