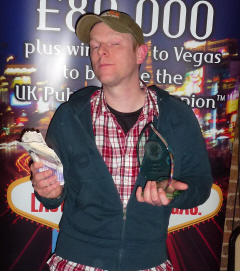 Sunday 11th December 2011
Time: 2:00pm
Venue: Loose Cannon Club
Where:London
No. of Players: 149
National Final Qualifiers: 7
Prize-pool: £1,000
Regional Final Winner: Peter Sharp
Bar Malden, New Malden
Team Event Winner: Staff Club, Didcot
Darin Chapman
Anthony Davies
Sandy Budziszewski
The Carnage…
Our West London final saw the return of our 2011 national final runner up David Ansell. David made a good fist of trying to make a return next year but ultimately fell short in 37th position. A good result when you consider David started on table 1, which was named as the table of death by it's residents due to the high number of eliminations. Elsewhere in the card room there was a guy named Peter Sharp who was sat there with 300 in chips and could perhaps be forgiven for turning his attention to his favourite Sunday night TV programs in front of the fire in his favourite armchair. Or to simply drown his sorrows in a London boozer. But maybe he had other ideas… The team event went to the Staff Club in Didcot and they were represented by league champion and finalist Darin Chapman, Anthony Davies and Sandy Budziszewski.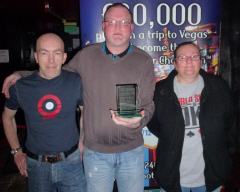 The Final Table…
Seat 1: Darin Chapman – Staff Club, Didcot (75,000)
Seat 2: Steve Mulcair – Armoury, London (94,000)
Seat 3: Barry Fry – Ship Inn, Wokingham (82,000)
Seat 4: Joe Rolls – Eight Bells, Oxford (43,000)
Seat 5: Roy Bean – Rifle Volunteer, Watford (50,000)
Seat 6: Peter Sharp – Bar Malden, New Malden (90,000)
Seat 7: Kris Baron – Earl of Cornwall, Slough (172,000)
Seat 8: James Lottes – Seacourt Bridge Inn, Oxford (77,000)
Seat 9: Livvy Dawson – Noble Vine, Walton on Thames (85,000)
Seat 10: Mark Sealey – Corner House, Oxford (2,000)
Peter Sharp, our super short stack from earlier had somehow managed to amass 90,000 in chips, so put that pint on hold and Sky+ the X Factor as this guy wasn't going anywhere. The top 7 were due to qualify for the national final, so it was perhaps apt that the 8th place finisher had already qualified for Nottingham next year. Once Kris Baron had been cruelly 'rivered' by a king and eliminated in 3rd place, we had a heads-up match on our hands. Peter Sharp, whose brother Doug has also finished 2nd twice before was up against Livvy Dawson from the Noble Vine. In what was Peter's first final table, he went one better than his brother with an unlikely winning hand. Peter Sharp held a slight advantage pre-flop with 9-6 against Livvy's 8-7. A final board of J-10-4-Q-5 gave Peter the victory which was effectively with 9 high!!! Congratulations to all winners and qualifiers.
The Winners…
Cash Prize Winners
1. Peter Sharp – Bar Malden, New Malden
2. Livvy Dawson – Noble Vine, Walton on Thames
3. Kris Baron – Earl of Cornwall, Slough
4. Joe Rolls – Eight Bells, Oxford
5. Steve Mulcair – Armoury, London
6. Roy Bean – Rifle Volunteer, Watford
7. Barry Fry – Ship Inn, Wokingham
8. James Lottes – Seacourt Bridge Inn, Oxford
National Final Qualifiers
Peter Sharp
Livvy Dawson
Kris Baron
Joe Rolls
Steve Mulcair
Roy Bean
Barry Fry