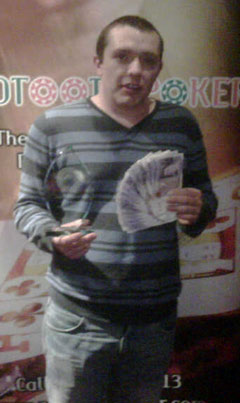 Sunday 11th December 2011
Time: 2:00pm
Venue: G Casino
Where: Sheffield
No. of Players: 154
National Final Qualifiers: 7
Prize-pool: £1,000
Regional Final Winner: Ashley Knowles
Woodman Inn, Rotherham
Team Event Winner: White Hart, Chesterfield
Clive Harvey
Sara Goulding
Richard Roach
The Carnage…
A great day was had by all as 154 players competed in our South Yorkshire regional final. There was a first time team winner in the White Hart in Chesterfield as they had three very consistant finishers in Clive Harvey, Sara Goulding and Richard Roach. A final table of 10 ensued with the top seven becoming one step closer to Las Vegas.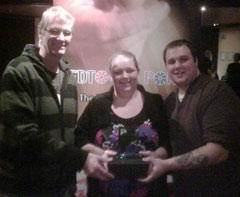 The Final Table…
Seat 1: David Pearson – Maple Tree, Doncaster (33,000)
Seat 2: Kim Cox – Sportsman, Doncaster (56,000)
Seat 3: Mark Dickinson – Cock Inn, Sheffield (84,000)
Seat 4: Nick Lumb – Queen Hotel, Sheffield (75,000)
Seat 5: Paul Mercer – Station Hotel, Doncaster (43,000)
Seat 6: Martin Hodgson – Friary, Grimsby (197,000)
Seat 7: Adam Parinder – Olivers Wine Bar, Louth (59,000)
Seat 8: Alan Kirkby – Three Horseshoes, Rotherham (88,000)
Seat 9: Ashley Knowles – Woodman Inn, Rotherham (44,000)
Seat 10: James McIlvaney – Sportsman Inn, Sheffield (41,000)
The final table started with a huge stack in Martin Hodgson. However, Martin couldn't convert it into a win as he left the tournament in 3rd place. His consolation prize being £100 in cash and a national final invite nonetheless. Martin's exit left us with a heads-up battle between Paul Mercer and Ashley Knowles. The final hand was a tasty one as Ashley got his chips in with 6-3 while still managing to dominate Paul's 5-3. A crazy flop of 3-5-4 gave Paul two pair until a 2 on the turn gave Ashley a straight. A 7 on the river only strengthened Ashley's hand as he became our new South Yorkshire regional final champion.
The Winners…
Cash Prize Winners
1. Ashley Knowles – Woodman Inn, Rotherham
2. Paul Mercer – Station Hotel, Doncaster
3. Martin Hodgson – Friary, Grimsby
4. Nick Lumb – Queen Hotel, Sheffield
5. Alan Kirkby – Three Horseshoes, Rotherham
6. Kim Cox – Sportsman, Doncaster
7. Adam Parinder – Olivers Wine Bar, Louth
8. David Pearson – Maple Tree, Doncaster
National Final Qualifiers
Ashley Knowles
Paul Mercer
Martin Hodgson
Nick Lumb
Alan Kirkby
Kim Cox
Adam Parinder