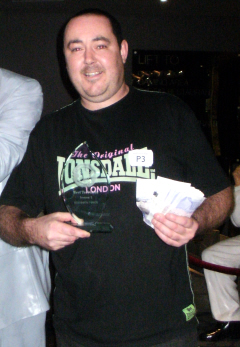 The Alea Casino, Leeds was again the venue for the third quarter's Redtooth West Yorkshire Regional Final, where 181 players sat down to battle it out for one of the eight seats available for the 2012 National Final.
With two Redtooth National Final winners in the field, Danny Blackburn (Airedale Heifer) and Dave Cheesman (Lord Nelson) the feeling was that gaining a qualification spot would be far from easy.
Play started promptly at 2.00pm and more than a full blind level elapsed before we had our first casualty, Rachel Zivarts from the Old Ball in Leeds – one down 180 left!
It wasn't until well after the break that the blinds started to take their toll, a surprisingly early casualty was former champ, Danny Blackburn who went out 135th.
By early evening the team event had been decided with the trio of Tracey Roberts, Simon Baxter and James Burrell from the Oyster Catcher, Hull emerging victorious.
Going on to the final table the pressure was off as Mally Downes (Pendas Arms, Leeds) had already qualified for the National Final, George Greer (Hoagy's Bar, Leeds) who finished 9th will take the eighth place at the Final.
Chip stacks on the final table were as follows;-
Dave Cheesman (Lord Nelson, Wakefield) 120k
Mally Downes (Pendas Arms, Leeds) 90k
Geoff Ward (Angel, Leeds) 120k
Simon Stubbings (Riverside Farm – Thursday) 200k
Steve Harris (Black Bull, Rothwell) 190k
Stuart Weston (Fox Inn, York) 70k
Tracey Roberts (Oyster Catcher, Hull) 60k
Craig Batten (Bootham Tavern, York) 140k
Congratulations to Craig on his success, his winning hand was Kc, Ks against Tracey who had 9s, Js, the flop was 10s, Qd,10c followed by Qh on the turn and 6h on the river.
Cash Prize Winners
1. Craig Batten – Bootham Tavern, York
2. Tracey Roberts – Oyster Catcher, Hull
3. Stuart Weston – Fox Inn, York
4. Steve Harris – Black Bull, Rothwell
5. Simon Stubbings – Riverside Farm, York
6. Geoff Ward – Angel, Leeds
7. Mally Downes – Pendas Arms, Leeds (Already Qualified)
8. Dave Cheesman – Lord Nelson, Wakefield
National Final Qualifiers
Craig Batten
Tracey Roberts
Stuart Weston
Steve Harris
Simon Stubbings
Geoff Ward
Dave Cheesman
George Greer