SATURDAY 25TH FEBRUARY
G CASINO – ABERDEEN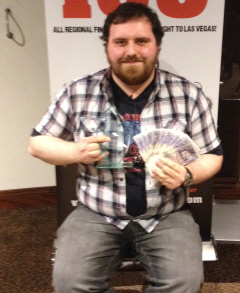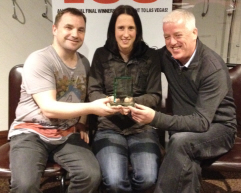 THE ACTION
Our final North Scotland regional final of the Redtooth year took place in Aberdeen where places in our national final were up for grabs and not to mention a share of £1,000. All of our pub league winners were presented with a trophy and certificate before play could get under way at around 2pm.
Only six players were unable to attend on the day giving us one of our best North Scotland turnouts yet. Neil Skinner from the Royal Hotel in Orkney became the first player to travel from outside of the UK mainland to play in a Redtooth final and with the ferry being cancelled from Orkney to Aberdeen, Neil decided to take to the air and flew in by plane so he wouldn't miss out on this excellent event. Unfortunately Neil couldn't make the National Final this time as he finished in 50th position.
Our first regional final of s5.4 also saw a royal flush. Colin Munro from the Red Lion in Aberdeen hitting the one hand that every player dreams of. Congratulations Colin!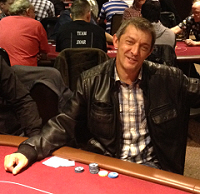 Our Aberdeen venues were as always heavily involved in the day's action as the Old School House won their first team event trophy. The Old School House had two finalists in league champion Jude Davidson and Brian Buchan. Mark Sweenie also contributed with a top 25 finish.
THE FINAL TABLE
Seat 1: Graeme Garioch – Kitty Brewster, Aberdeen (39,000)
Seat 2: Guido Vermeire – Argyll Hotel, Ullapool (31,000)
Seat 3: Ronnie Rice – Rack & Cue, Dundee (22,000)
Seat 4: Jude Davison – Old School House, Aberdeen (33,000)
Seat 5: Richard Arnott – Imperial Bar, Cupar (50,000)
Seat 6: Stuart Scotland – Zoar Inn, Forfar (23,000)
Seat 7: Brian Buchan – Old School House, Aberdeen (24,000)
Seat 8: Kevin Cairney – Imperial Bar, Cupar (32,000)
Seat 9: William Cressy – Northern Bar, Aberdeen (39,000)
Seat 10: Alan Holland – Chieftain Hotel, Inverness (19,000)
The final table went largely to form as most of the shorter stacks hit the rail first. Alan Holland made some inroads with his 19,000 stack as he hung on to claim a national final spot in 3rd place. Alan's elimination saw Graeme Garioch and chip leader Richard Arnott battle heads-up to become the latest North Scotland champion. A dominating situation made Richard a huge favourite as his Ac-5d was up against Graeme's lowly 5h-2h. A board of 7c8dKd 7d Jd gave Richard the flush and a much deserved win, a feat he will hopefully repeat in our 2012 national final!
THE WINNERS
1. Richard Arnott – Imperial Bar, Cupar
2. Graeme Garioch – Kitty Brewster, Aberdeen
3. Alan Holland – Chieftain Hotel, Inverness
4. Guido Vermeire – Argyll Hotel, Ullapool
5. Jude Davison – Old School House, Aberdeen
6. William Cressy – Northern Bar, Aberdeen
7. Brian Buchan – Old School House, Aberdeen
8. Stuart Scotland – Zoar Inn, Forfar