SUNDAY 26TH FEBRUARY
GALA CASINO – EDINBURGH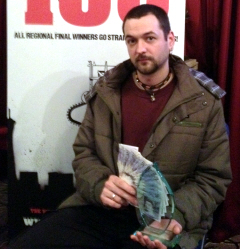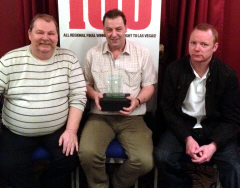 THE ACTION
Another cracking turnout saw only two absentees in our last South Scotland final before the year's show piece event. £1,000 was played for along with the much sought after crystal glass trophies and national final seats.
The cards hit the air around 2pm with Mic Thomson being the first player to be eliminated. Mic was soon followed by Donnie Duncan, Calum Healey and Daniel Hinton. Previous South Scotland champion Robin McDonald hit the rail in 24th position as the team event winners neared.
The team event was a very close contest with the six representatives from the Abbey Granary in Edinburgh and the Fountain Bar in Perth all achieving top 20 finishers. The winning team was eventually decided when Nick Wain was eliminated in 16th place giving the Abbey Granary a nice trophy to display at the pub! congratulations to finalist Ronald Fleming, John Docherty and George Stevenson
THE FINAL TABLE
Seat 1: Jay Savy – Fountain Bar, Perth (14,000)
Seat 2: Marco Allen – Fountain Bar, Perth (6,000)
Seat 3: Debbie Johnston – Pentland Inn, Loanhead (29,000)
Seat 4: Robert J Thomson – Queens Retreat, Edinburgh (47,000)
Seat 5: Robert Thomson – Schiehallion, Aberfeldy (5,000)
Seat 6: Ronald Fleming – Abbey Granary, Edinburgh (25,000)
Seat 7: Gabor Berecz – Schiehallion, Aberfeldy (34,000)
Seat 8: Emma Walker – No.2 Baker Street, Stirling (6,000)
Seat 9: Sean Kelly – Crofters, Edinburgh (23,000)
Our mega short stacks were inevitably amongst the first players to leave the final table. The chip leader Robert J Thomson didn't have things his way as he finished in 6th place for £40. The guys from the Fountain finished in 5th and 3rd place respectively with Debbie Johnston being the rose between two thorns in 4th place. Jay's elimination brought the heads-up match upon us. Ronald Fleming was looking for a Abbey Granary double with only Gabor Berecz standing in his way. The final hand saw Ronald have the best of it pre-flop with his Ad-6s against Gabor's Kc-3c. A flop of QdQh3h catapulted Gabor into the lead and with a turn & river of 4s 9d Gabor Berecz took down the South Scotland final and became our newest regional champion.
THE WINNERS
1. Gabor Berecz – Schiehallion, Aberfeldy
2. Ronald Fleming – Abbey Granary, Edinburgh
3. Jay Savy – Fountain Bar, Perth
4. Debbie Johnston – Pentland Inn, Loanhead
5. Marco Allen – Fountain Bar, Perth
6. Robert J Thomson – Queens Retreat, Edinburgh
7. Emma Walker – No.2 Baker Street, Stirling
8. Sean Kelly – Crofters, Edinburgh