SUNDAY 26TH FEBRUARY
CIRCUS CASINO – NEWCASTLE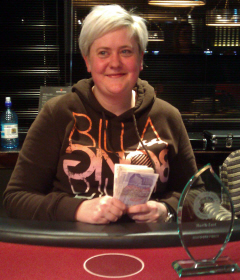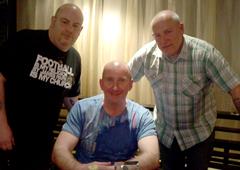 THE ACTION
Our North East players all geared up for what would turn out to be a late finish as the the £1,000 prize-pool and six national final seats were hard fought for. As last season, 148 poker players sat down as the cards hit the air.
After the break the team event went down to the wire with two pubs fighting until the death. The representatives from the Waggon in Gateshead and the Royal Tavern in Blyth all made the top 20 with the winner eventually being declared after Neil Cole's exit in 16th place gave the title to the Waggon in Gateshead. Funnily enough, two of the Waggon representatives were pretty much immediately eliminated in 15th and 14th position after the win with the third player out in 11th place. So congratulations to Peter Walker, Paul Hunter and Steve Sample.
THE FINAL TABLE
Seat 1: Clare Todd – Travellers Rest, Darlington (181,000)
Seat 2: Liam Davidson – Poachers Cottage, Newcastle (111,000)
Seat 3: Aaron Wilson – Boathouse, Durham (17,000)
Seat 4: Jamie Evans – Brown Cow, Cockermouth (125,000)
Seat 5: Kevin Sams – Ridley Park, Blyth (28,000)
Seat 6: Ray Coates – Green Dragon, Bedale (30,000)
Seat 7: Jean Higgins – Beehive, Penrith (32,000)
Seat 8: Judith Hoy – Cock Crow, Hebburn (58,000)
Seat 9: Mark Forster – New Derby, Sunderland (38,000)
Seat 10: James Barlow – Poachers Cottage, Newcastle (140,000)
Clare Todd led the way going into the final table with the Poachers' James Barlow close by. Three of the shorter stacks soon left us in 10th, 9th and 8th with Kevin Sams claiming the first cash prize. Ray Coates made good use of his short stack by maneuvering himself into third place for a £100 which left Clare and Liam Davidson to play out for the title. In what was possibly the longest heads-up encounter in Redtooth regional final history and after all of Clare's deal requests where turned down by Liam the tournament eventually came to an end after over an hour of heads-up play. Clare was dealt a monster in the shape of 10-10 which had Liam's 10-4 in terrible shape. A flop of 7-6-4 gave Liam some hope until two 3's ran off on the turn and river to seal an impressive victory for Clare Todd. Good luck in Nottingham!
THE WINNERS
1. Clare Todd – Travellers Rest, Darlington
2. Liam Davidson – Poachers Cottage, Newcastle
3. Ray Coates – Green Dragon, Bedale
4. Jamie Evans – Brown Cow, Cockermouth
5. Mark Forster – New Derby, Sunderland
6. James Barlow – Poachers Cottage, Newcastle
7. Judith Hoy – Cock Crow, Hebburn
8. Kevin Sams – Ridley Park, Blyth