SATURDAY 3RD MARCH
GROSVENOR CASINO – CARDIFF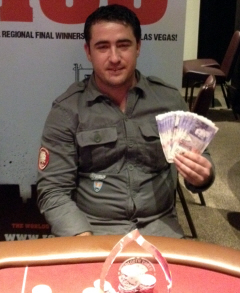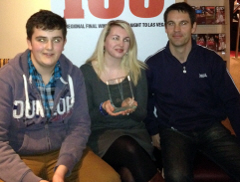 THE ACTION
The Grosvenor in Cardiff staged the first of two Welsh finals where another five players would win a seat to the national final in Nottingham and also win a share of £1,000 for their efforts. A near 90% turnout was a good indication that the chance of a free trip to Las Vegas via our national final was highly thought of.
The team event was largely a two horse race as the Blackweir Tavern could only be beaten by the Tylorstown Ex-Servicemens Club. The Tylorstown ended with two finalists but that still wasn't enough as the Blackweir's three top 30 finishers gave them the victory. Congratulations to Paul Symonds, Jude Rideout and Andrew Richards.
THE FINAL TABLE
Seat 1: James Lynch – Central Hotel, Pontypridd (35,000)
Seat 2: Norman Escott – Traders Tavern, Cardiff (27,000)
Seat 3: Huw Roberts – Birchgrove, Cardiff (19,000)
Seat 4: Tyrone Hunt – Tylorstown Ex-Servicemens Club, Rhondda (11,000)
Seat 5: Daniel Williams – Moathouse, Caerphilly (34,000)
Seat 6: Stuart Rankmore – Gower Hotel, Cardiff (19,000)
Seat 7: James Monaghan – Ferndale Hotel, Rhondda (44,000)
Seat 8: Thomas Doyle – Monkstone Inn, Cardiff (29,000)
Seat 9: Ashley Bristow – Tylorstown Ex-Servicemens Club, Rhondda (46,000)
Seat 10: Neil Pash – Three Brewers, Cardiff (112,000)
This final table saw the return of Ashley Bristow with exactly the same chip count as last time. Unfortunately Ashley missed out on the lot last time but this time things were much different with a 3rd place finish to take him through to the national final with a £100 in his back pocket. Earlier his fellow team mate, Tyrone Hunt, unluckily bubbled the national final seats finishing in 6th place. Ashley's departure in 3rd brought the heads-up encounter between James Lynch and Daniel Williams. The final hand saw Williams look down at K-5 to Lynch's K-3dd. A crazy flop of 4d-5d-6c bizarrely made James the favourite with his combo draw in which he completed with a 2s turn. James's hand only got stronger on the river when he completed the nut flush making James Lynch the new Wales One regional champion.
THE WINNERS
1. James Lynch – Central Hotel, Pontypridd
2. Daniel Williams – Moathouse, Caerphilly
3. Ashley Bristow – Tylorstown Ex-Servicemens Club, Rhondda
4. Neil Pash – Three Brewers, Cardiff
5. Huw Roberts – Birchgrove, Cardiff
6. Tyrone Hunt – Tylorstown Ex-Servicemens Club, Rhondda
7. James Monaghan – Ferndale Hotel, Rhondda
8. Norman Escott – Traders Tavern, Cardiff