SUNDAY 4TH MARCH
GROSVENOR CASINO – CARDIFF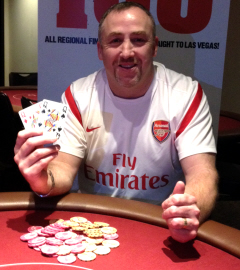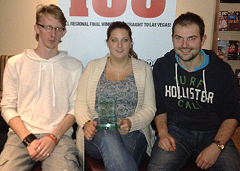 THE ACTION
A record attendance turned out for our Wales Two regional final as the final scrap for national final seats got under way. Last season's champion Chris Ware returned for a defence that never really got going as he was eliminated in 68th position. His team mates from the Upper Cock Inn faired better as Carl Daniels went on to make the final table.
The team event saw a first time winner in the Darran from Risca with 3 top 20 finishers. Our congratulations go to league champion Simon Jones, Katie Clarke and David Thomas.
THE FINAL TABLE
Seat 1: Dan Pollard – Wheatsheaf, Magor (25,000)
Seat 2: Chris Davies – Parc Y Prior, Newport (57,000)
Seat 3: Carl Daniels – Upper Cock Inn, Cwmbran (15,000)
Seat 4: Steve Davies – Church House, Gwent (80,000)
Seat 5: Stephen Mustey – New Inn, Cardiff (12,000)
Seat 6: Richie Martin – Two Brewers, Bridgend (40,000)
Seat 7: Carl Watson – Pick & Shovel, Pontypridd (26,000)
Seat 8: Aled Williams – Three Blackbirds, Cwmbran (18,000)
Seat 9: Vincent Starr – Kings Arms, Caerphilly (83,000)
Seat 10: Laurence Phillipson – Wheatsheaf, Magor (28,000)
The chip leader going in was Vincent Starr from the Kings Arms. Vincent found the going tough as his stack slowly dwindled on the bubble, luckily he just managed to hold on to a national final spot winning £50 cash to take away with him. It was a totally different story for short stack Carl Daniels who was hoping to be the second consecutive winner from the Upper Cock Inn, and with Chris Davies finishing in 3rd place only Dan Pollard could stop Carl. Both players wasted no time in shipping the lot in with two monster heads-up hands. Carl had the better of it with his ladies dominating Dan's 7-7. A board of 2-10-A-6-J was no help to Dan as Carl became the new Wales Two regional champion. Well done to all of our winners!
THE WINNERS
1. Carl Daniels – Upper Cock Inn, Cwmbran
2. Dan Pollard – Wheatsheaf, Magor
3. Chris Davies – Parc Y Prior, Newport
4. Steve Davies – Church House, Gwent
5. Vincent Starr – Kings Arms, Caerphilly
6. Stephen Mustey – New Inn, Cardiff
7. Carl Watson – Pick & Shovel, Pontypridd
8. Richie Martin – Two Brewers, Bridgend