SATURDAY 10TH MARCH
CIRCUS CASINO – BIRMINGHAM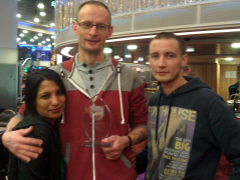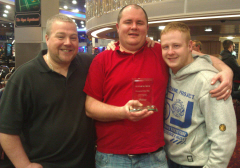 THE ACTION
The first of our West Midlands finals was played on a Saturday for the first time. With last season's champ unable to attend there were 164 players ready to take his crown.
Our team even winner was won by debutants the Fox in Nuneaton. The were very well represented on the day by league champion Mark York, Dan Hutt and Lewis Selby. Welcome to the Redtooth family!
THE FINAL TABLE
Seat 1: Ricky Robbins – Old Clarence, Coventry (208,000)
Seat 2: Ben Parsons – Woodman, Netherton (64,000)
Seat 3: Phil Warne – Kingsbridge Inn, Gloucester (47,000)
Seat 4: Paul Goodwin – Round Oak, Brierley Hill (156,000)
Seat 5: Colin Ford – New Inns, Erdington (31,000)
Seat 6: Alistair Fairburn – Doridge Cricket Club, Doridge (80,000)
Seat 7: Richard Breakwell – Cleveland, Wolverhampton (82,000)
Seat 8: John Parsons – Crows Nest, Nuneaton (32,000)
Seat 9: Mark Jones – Crown, Bridgnorth (26,000)
Seat 10: Craig Evans – Winding Wheel, Cannock (134,000)
As the final table began our short stack wasted no time in making his move as his 26,000 stack soon increased. With seven national final qualifiers there would be three leaving disappointed. John Parsons was the first out in 10th, followed by Ben Parsons and Colin Ford in 9th and 8th respectively. This brought a huge sigh of relief for the remaining players as the play inevitably loosened up. Mark Jones, our short stack at the start, exited in 3rd place which brought a heads-up clash between Paul Goodwin and Craig Evans. The final hand saw Craig get his chips in with an ambitious 3-2 against Paul's 8-6. A final board of A-J-9-7-5 gave Paul the straight and the much deserved victory and he takes home £500, a crystal glass trophy and a seat into this month's national final.
THE WINNERS
1. Paul Goodwin – Round Oak, Brierley Hill
2. Craig Evans – Winding Wheel, Cannock
3. Mark Jones – Crown, Bridgnorth
4. Ricky Robbins – Old Clarence, Coventry
5. Alistair Fairburn – Doridge Cricket Club, Doridge
6. Richard Breakwell – Cleveland, Wolverhampton
7. Phil Warne – Kingsbridge Inn, Gloucester
8. Colin Ford – New Inns, Erdington