SUNDAY 11TH MARCH
ALEA CASINO – NOTTINGHAM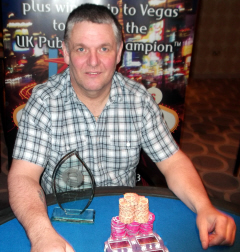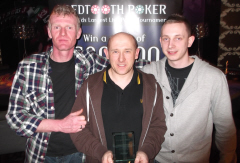 THE ACTION
Our biggest regional final of the season saw 188 players sit down for a shot at our national final later this month. The top eight players would qualify and take home a cash prize for their efforts.
It wasn't long until the first player was eliminated. Paul Bennett from the Oak Tree in Mansfield made the walk of shame to a huge cheer and round of applause from the other 187 players with what looked like a first hand elimination. At least he didn't have a long journey home! Others to fall soon after included Clinton Sherratt, Jerry O'Dwyer and Jeff Ramzan. Better luck next time lads.
The team event went to the Harrier from Peterborough as they almost had a couple of finalists but ultimately fell short. Congratulations to Gavin Lawrence, Andrew Swan and Daryl Sells.
THE FINAL TABLE
Seat 1: Richard Wing – Hawthorns, Alfreton (265,000)
Seat 2: Stephen Forbes – Sun Inn, Pinxton (60,000)
Seat 3: Paul Broughton – Chartwell Arms, Leicester (135,000)
Seat 4: Richard Prescott – Lockstone, Long Eaton (65,000)
Seat 5: John Smith – Moulders Arms, Riddings (85,000)
Seat 6: Ian Russell – Bank, Nottingham (110,000)
Seat 7: Nigel Hardy – Redtooth Tavern, Online (110,000)
Seat 8: Lisa Houghton – Paddock, Derby (65,000)
Seat 9: Chris Owen – Wentworth Arms, Leicester (100,000)
Richard Wing went into the final with a comfortable chip lead and made very good use of it. A nine player final table would mean one unlucky player would miss out on everything. That player was to be Richard Prescott as he ran his K-J into Chris's A-A. After the bubble had burst we were soon three handed with Richard Wing, Stephen Forbes and our online qualifier Nigel Hardy. Once Nigel had doubled up via Stephen by spiking a 9 on the turn with his A-9 vs A-Q, Stephen was soon leaving with a £100 in his back pocket. The two remaining players agreed to chop the money and play out for the trophy. This put Richard into gung ho mode as pretty much every hand was an all-in (he claimed he had the cards). The final hand saw the best hand win as Nigel's A-2 held against Richard's 10-9s. The final board ran out 6-K-A-A-3.
Nigel becomes only the second Redtooth Tavern qualifier to win a regional final after Richard Tuzinkiewicz's win in the Central England final one year ago. Nigel can be found in the Redtooth Tavern under the alias of Forest8Derby.
THE WINNERS
1. Nigel Hardy – Redtooth Tavern, Online
2. Richard Wing – Hawthorns, Alfreton
3. Stephen Forbes – Sun Inn, Pinxton
4. Ian Russell – Bank, Nottingham
5. Paul Broughton – Chartwell Arms, Leicester
6. Chris Owen – Wentworth Arms, Leicester
7. Lisa Houghton – Paddock, Derby
8. John Smith – Moulders Arms, Riddings