SUNDAY 11TH MARCH
LOOSE CANNON CLUB – LONDON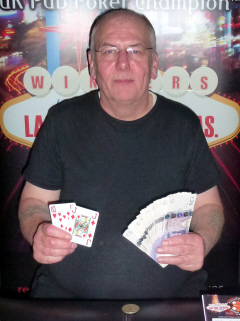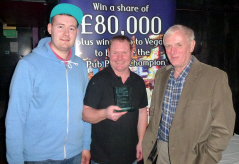 THE ACTION
Our second regional final saw the turn of our West Londoners as they descended into the Loose Cannon Club for the final time before the national final.
The team event had first time winners in the form of the Saracens Head in Henley-on-Thames. Congratulations to finalist and league champion Steve Chapman, Ray Blackmore and Steve Harrison.
THE FINAL TABLE
Seat 1: Neil Prosser – White Hart, Hayes (129,000)
Seat 2: Lee Griffiths – Blue Boar, Wantage (89,000)
Seat 3: Steve Chapman – Saracens Head, Henley-on-Thames (45,000)
Seat 4: John Allam – Royal British Legion, Worcester Park (163,000)
Seat 5: Michael Bell – Oxford Blue, Old Windsor (89,000)
Seat 6: Johnny Hague – Five Bells, Finchley (37,000)
Seat 7: Sean Pipkin – Treasury, Sutton (61,000)
Seat 8: Colin Quick – Good Companions, Reading (90,000)
Seat 9: Kevin Mears – Plough & Furrow, Smallfield (74,000)
Seat 10: Paul Smith – Canvey Island Conservative Club, Canvey Island (11,000)
John Allam started the final table as the chip leader with Neil Prosser not far behind. Paul Smith, our short stack made some good headway and must have been pleased with a 6th place finish. Our chip leader John Allam was still going strong as three more players hit the rail to bring us a heads-up clash between John and Colin Quick. The final hand saw two Jack High's macth up but John had the better kicker with the 10 to Colin's 8. Colin got no help from the poker gods as an A-6-9-A-4 ran off to earn John £500, a crystal glass trophy AND a national final invite. Congratulations!
THE WINNERS
1. John Allam – Royal British Legion, Worcester Park
2. Colin Quick – Good Companions, Reading
3. Michael Bell – Oxford Blue, Old Windsor
4. Neil Prosser – White Hart, Hayes
5. Sean Pipkin – Treasury, Sutton
6. Paul Smith – Canvey Island Conservative Club, Canvey Island
7. Kevin Mears – Plough & Furrow, Smallfield
8. Lee Griffiths – Blue Boar, Wantage