SUNDAY 11TH MARCH
G CASINO – SHEFFIELD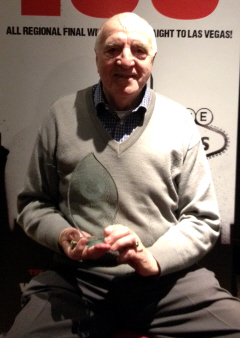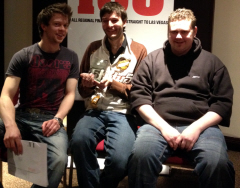 THE ACTION
Eight more Yorkshire poker players would be heading for the national final on this historic day. After the presentation was done, which included a winners trophy for our oldest ever pub league winner, Fred Copley from the Horse & Jockey in Rotherham. Fred wasn't in the mood to just settle for that however….
2:00pm ticked by and the cards hit the air with the room falling silent before the usual wave of chip shuffling proceeded. The Brownlow Arms who have won the team event trophy on three occasions were unable to make it number four as all of their representatives fell short of the business end of the day's comp. A new champion pub was crowned in the shape of the Oliver's Wine Bar in Louth, they saw a finalist on the day in Josh Watterson with great support from H. Goddard and Jamie Dixon.
THE FINAL TABLE
Seat 1: Sam Hardy – Friary, Grimsby (42,000)
Seat 2: Liam Kelk – Stocks, Sheffield (98,000)
Seat 3: Chris Gregory – Peacock, Gainsborough (43,000)
Seat 4: Fred Copley – Horse & Jockey, Rotherham (213,000)
Seat 5: Lisa Snook – Number 1 Pub, Cleethorpes (51,000)
Seat 6: Josh Watterson – Oliver's Wine Bar, Lough (135,000)
Seat 7: Nick Horbury – King & Miller, Retford (51,000)
Seat 8: James Mellor – Pocket, Rotherham (51,000)
Seat 9: Linzi Cottam – Three Tuns, Rotherham (33,000)
Fred Copley was still showing the young'uns how it's done as he went in as the chip leader with a comfortable 213,000 in chips. Eight national finalists would leave one player disappointed. Chris Gregory was the bubble boy, joining the reserve list as the other eight players breathed a sigh of relief. Sam finished in 8th and was swiftly followed by Linzi, James, Liam and the top female finisher on the day Lisa Snook. Once Nick Horbury hit the rail in 3rd place we had our heads-up contest between Fred and Josh. Fred saw himself with a slight lead going into the final hand holding K-5 as Josh tabled J-6. We then saw a flop of A-A-8 with another 8 on the turn leaving Josh needing a J to stay in the game. The river brought a 2 which was of no use to Josh and in turn made Fred Copley our oldest ever regional final champion at 83 years young! Congratulations Fred.
THE WINNERS
1. Fred Copley – Horse & Jockey, Rotherham
2. Josh Watterson – Oliver's Wine Bar, Lough
3. Nick Horbury – King & Miller, Retford
4. Lisa Snook – Number 1 Pub, Cleethorpes
5. Liam Kelk – Stocks, Sheffield
6. James Mellor – Pocket, Rotherham
7. Linzi Cottam – Three Tuns, Rotherham
8. Sam Hardy – Friary, Grimsby