SATURDAY 10TH MARCH
ASPERS – NORTHAMPTON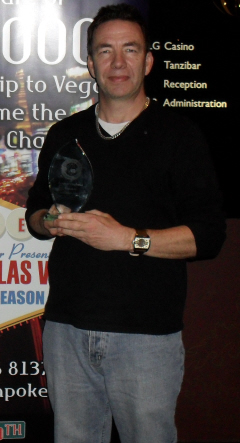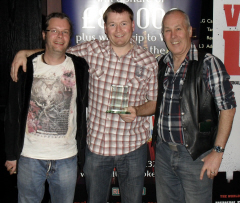 THE ACTION
A total of 150 people eventually took their seats at Asper's Casino, Northampton for the fourth quarterly Redtooth Regional Final on Saturday 10th March, all hoping to be amongst the lucky seven to qualify for the National Final on 25th March.
Amazingly play got under way on time despite many players being delayed by road closures on the A1 and A14 – thank heavens for sat nav! – and a problem with the seating computer which lead to a huge game of musical chairs!
After less than twenty minutes we had our first casualty, Scott Barrington from the Colingtree, Northampton who received the usual huge round of applause. Play settled down after the first elimination and by about six o'clock the team trophy winners were announced, John Duncan, Steve Warren and Richard Pengelly from the White Hart Hotel in Buckingham.
Going in to the final table, of the ten players playing for seven places two had already qualified for the National Final and one player, Ross Eley, from the Golden Hind in Cambridge was sitting with only one chip in front of him.
THE FINAL TABLE
Seat 1: Paul Ward – Priory, St Neots (145,000)
Seat 2: Sean Griffin – AMF Bowling, Peterborough (205,000)
Seat 3: Kevin Palmer – Crown, Ipswich (110,000)
Seat 4: Lisa Greer – Old Punch House, Ware (85,000)
Seat 5: Neil Pitchford – Dolphin, Thetford (65,000)
Seat 6: Leon Du Plooy – Chequered Flag, Brackley (75,000)
Seat 7: Kerry Tature-Green – Ock n Dough, Wellingborough (40,000)
Seat 8: Ross Eley – Golden Hind, Cambridge (5,000)
Seat 9: Kevin Strawbridge – Green Man, Lavendon (50,000)
Seat 10: Deb Griffiths – Green Man, Lavendon (20,000)
With Lisa and Kerry already qualified all eyes were on Ross, it appeared to be only a matter of time before he would be eliminated. A favourable seat, patience and a bit of luck saw Ross survive a complete circuit of the table, with three hands to go before his second forced big blind however we lost our first player, Leon, who lost all of his chips to Kevin. With Leon gone it meant that everyone left at the table was guaranteed a place at the National. Ross was soon eliminated in 9th place and was soon followed by the chip leader going into the final table, Sean, who kept seeing decent hands being beaten. Lisa finished in 7th place, another very good day for her. Lisa finished on the final table in season 1, didn't qualify for season 2 and was the winner in season 3, certainly a player to watch at the National on the 25th. Deb and Kevin, both from the Green Man ended up in 6th and 5th places respectively. Kerry, who had already qualified in season 2, improved on her previous position going out in 4th spot. The final three fought a tough battle until Paul was eliminated in 3rd place. By this time Kevin had a good chip lead over Neil and it was soon all over when Kevin went all in after the turn card, having made a straight, which was called by Neil who had two pairs, the river didn't save Neil and Kevin was crowned champion.
Final hand; Kevin 5s 4d, Neil 9s 7c – Flop 3s, 6c, 9d Turn 7s River 3h.
THE WINNERS
1. Kevin Palmer – Crown, Ipswich
2. Neil Pitchford – Dolphin, Thetford
3. Paul Ward – Priory, St Neots
4. Kerry Tature-Green – Ock n Dough, Wellingborough
5. Kevin Strawbridge – Green Man, Lavendon
6. Deb Griffiths – Green Man, Lavendon
7. Lisa Greer – Old Punch House, Ware
8. Sean Griffin – AMF Bowling, Peterborough