SUNDAY 11TH MARCH
ALEA – LEEDS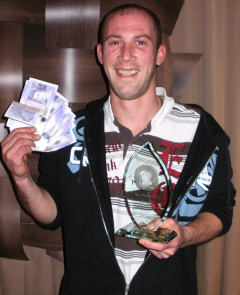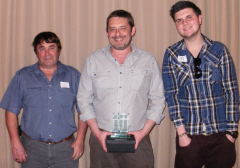 THE ACTION
171 players packed the Alea Casino in Leeds on Sunday hoping to win one of the last 8 seats available for this year's National Final.
With the presentations made play was promptly underway at 2.00pm, less than a minute later we had our first casualty, one of the quickest exits ever – Craig Greenway from the Wrose Bull Hotel, Shipley, went all-in with the nut flush only to be called with a full house! Cue, sighs of relief and a big round of applause!
Elimination this time around seemed to be, like the day's play, steady rather than a mad rush to check out after the break, by 6.30pm we were down to the final 8 with Christopher Grainger of the Flying Man in Pocklington being the unlucky 'bubble-boy' in 9th spot.
The winners of the team trophy this season were, Matthew Wadsworth, Richard Freeman and Keith Boneham from the Londsborough Arms in Market Weighton
THE FINAL TABLE
Seat 1: Steve Braithwaite – Grey Horse, York (60,000)
Seat 2: Terry Sutcliffe – Victoria Pub, Leeds (165,000)
Seat 3: Chris Conibere – White Horse, York (115,000)
Seat 4: Paul Bailey – Podger, Leeds (130,000)
Seat 5: Jason Hinsley – Lord Nelson, Wakefield (105,000)
Seat 6: Matt Wadsworth – Lonsborough Arms, Market Weighton (75,000)
Seat 7: Kavan Malloy – Eldon, Leeds (230,000)
Seat 8: Mark Cartlidge – Victoria, Beverley (40,000)
Steve was the first player out on the final table, finishing in 8th place, he was soon followed by Mark in 7th, and Matt in 6th. Paul in 5th spot and Jason in 4th were next to go leaving Kavan, Terry and Chris to battle it out for the top three positions. Kavan eventually lost all of his chips to Chris who used his huge chip advantage to overcome Terry and emerge victorious.
The final, decisive hand was as follows;-
Terry all in with Jh, 8d, immediately called by Chris with Ad, As. The flop was 5h, 6s, 8c which gave Terry some hope, however 5d on the turn meant that only another 8 would save him. The river card was Jd, giving both players two pairs, Chris's Aces proving to be the deciding factor.
THE WINNERS
1. Chris Conibere – White Horse, York
2. Terry Sutcliffe – Victoria Pub, Leeds
3. Kavan Malloy – Eldon, Leeds
4. Jason Hinsley – Lord Nelson, Wakefield
5. Paul Bailey – Podger, Leeds
6. Matt Wadsworth – Lonsborough Arms, Market Weighton
7. Mark Cartlidge – Victoria, Beverley
8. Steve Braithwaite – Grey Horse, York