SUNDAY 11TH MARCH
MANCHESTER 235 – MANCHESTER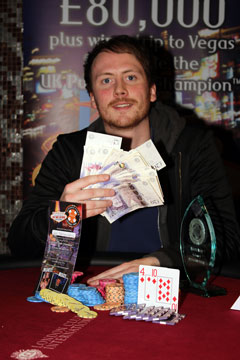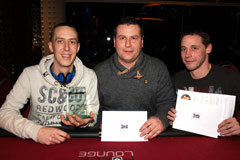 THE ACTION
A higher than expected turnout packed the Manchester 235 casino as the final five North West national finalists would be found during the early evening. The top eight would also share the generous $1,000 on offer.
Once play got under way the casualties started falling almost immediately. The first two players out were both from the same venue, Altrincham Bridgewater in Altrincham. Graham Crozier and Hayley Eskdale were the unfortunate duo who secured that Altrincham Bridgewater would not be taking home the team event trophy on the day. The venue that did take it home saw a performance that could only be described as legendary from their representatives as two of them were to go on to make the final. They were represented by Paul Brindley, Paul Brookes and Jonathan Clarke.
THE FINAL TABLE
Seat 1: Andrew Pizzey – Boundary Stone, Manchester (47,000)
Seat 2: Paul Brookes – Carousel, Stockport (218,000)
Seat 3: Gary Blamire – Beaumont Arms, Bolton (18,000)
Seat 4: Joe Stephenson – Red Lion Hotel, Manchester (118,000)
Seat 5: Ivano Notarpippo – Carters Arms, Middleton (25,000)
Seat 6: Shaun Hayes – Brown Cow, Eccles (18,000)
Seat 7: Daniel Robertson – Heyside Cricket Club, Heyside (14,000)
Seat 8: Jonathan Clarke – Carousel, Stockport (64,000)
Seat 9: Les Kirkman – Brown Cow, Eccles (42,000)
Seat 10: Edward Sowerby – Dog & Partridge, Morecambe (36,000)
If winning the team event wasn't enough then Paul Brookes must have felt that it was necessary to start the final as chip leader as well. With five qualifiers there would be five disappointed players. Gary was the first out in 10th, followed by Ivano, Edward and Les in 9th, 8th & 7th respectively. The bubble burst as soon as Daniel Robertson was eliminated in 6th place which meant play could loosen up a little. Jonathan Clarke was 5th with Shaun in 4th and chip leader going in Paul just fell short of the heads-up match in 3rd place. This left Joe and Andrew to fight for the title and the cash. The final hand was an unusual finish to a tournament as Joe's 10-4 suited flopped a flush with Andrew's 9-7 turning a straight. Unfortunately for Andrew a flush beats a straight so Joe Stephenson became our newest North West One champion.
THE WINNERS
1. Joe Stephenson – Red Lion Hotel, Manchester
2. Andrew Pizzey – Boundary Stone, Manchester
3. Paul Brookes – Carousel, Stockport
4. Shaun Hayes – Brown Cow, Eccles
5. Jonathan Clarke – Carousel, Stockport
6. Daniel Robertson – Heyside Cricket Club, Heyside
7. Les Kirkman – Brown Cow, Eccles
8. Edward Sowerby – Dog & Partridge, Morecambe