SUNDAY 11TH MARCH
CIRCUS CASINO – BIRMINGHAM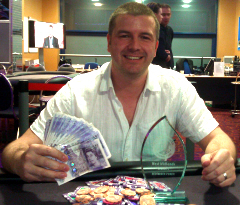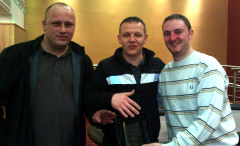 THE ACTION
Star City welcomed another group of West Midlanders as the final eight players would reach the pinnacle of pub poker at Nottingham's Dusk Till Dawn. £1,000 would also be split between the top eight players.
There were some outstanding venues on the day as the Hilly House went close to claiming the team event title. The Bulls Head in Warwickshire also had a good run but neither venue could outperform the impressive Cat & Fiddle on the day. They were represented by John Carroll, Adam Bacciocchi and David Wood.
THE FINAL TABLE
Seat 1: Dave Loftus – Albion, Wolverhampton (120,500)
Seat 2: Wayne Maunder – Rose & Crown, Coventry (13,500)
Seat 3: Dean Garratt – Tenth Lock, Brierley Hill (119,500)
Seat 4: Diana Van Dyk – Royal Oak, Gloucester (184,500)
Seat 5: Sam Watson – Pillar of Salt, Droitwich (40,000)
Seat 6: Ian Bratley – Rose & Crown, Wolverhampton (77,500)
Seat 7: Darren Lee – Mount Pleasant, Coventry (95,500)
Seat 8: Steven Smith – Round Oak, Wolverhampton (95,000)
Seat 9: Chris Wildgust – Woodrow, Redditch (35,500)
Redtooth regular Diana Van Dyk led the way on chip count with Wayne clinging on as the short stack. Wayne soon made some headway as he started his impressive comeback. With Diana having already qualified from season 1 the top 9 would all be invited to Nottingham. Steven Smith left us in 8th place and was followed by Chris, Dean and Darren. Dave Loftus fell just short of the title in 4th with Diana in 3rd. The heads-up match was between our comeback king Wayne Maunder and Ian Bratley. The final hand saw the best hand lose as Ian's 6-2 outdrew Wayne's Q-9 on a 10-A-5-2-3 board. Unlucky Wayne and congratulations to Ian Brately who becomes our new West Midlands Two champion.
THE WINNERS
1. Ian Bratley – Rose & Crown, Wolverhampton
2. Wayne Maunder – Rose & Crown, Coventry
3. Diana Van Dyk – Royal Oak, Gloucester
4. Dave Loftus – Albion, Wolverhampton
5. Darren Lee – Mount Pleasant, Coventry
6. Dean Garratt – Tenth Lock, Brierley Hill
7. Chris Wildgust – Woodrow, Redditch
8. Steven Smith – Round Oak, Wolverhampton