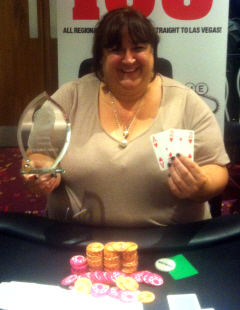 Aspers in Stratford welcomed the second half of our Londoners for the first time after the huge success of the East London final. Eight semi final seats were up for grabs along with two crystal glass trophies and a share of £500. Oh and the small matter of a package into Vegas 100 of course!!
The team event trophy went to the St Margarets in Twickenham. They were represented on the day by finalist Yogi Hammad, Barry Mouncey Jaggers, Paul Alderton and Andrew Lawson.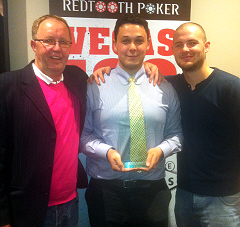 THE FINAL TABLE
Seat 1: Richard Mason – Thatched Cottage, Maidenhead (28,000)
Seat 2: Daniel Vivanco – Crown, Northolt (38,000)
Seat 3: Yogi Hammad – St Margarets, Twickenham (68,000)
Seat 4: Fred Griessen – Sun & Sand Lounge, Finchley (27,000)
Seat 5: Jason Wakeling – Crown, Northolt (54,000)
Seat 6: John Farnden – London Apprentice, London (170,000)
Seat 7: Daniel Smith – Treacle Mine, Grays (132,000)
Seat 8: Alison Bradbrook – Bull & Chequers, Woodley (82,000)
Seat 9: Nigel Daffern – Treasury, Sutton (137,000)
Seat 10: Valerian Vaz – Butler's, Highwycombe (99,000)
Short stack Fred Griessen was the first player to be eliminated in 10th place. Fred was then surprisingly followed by big stack John Farnden and Jason Wakeling who were eliminated in the same hand and finished 8th and 9th respectively. Yogi Hammad was 7th with Richard Mason 6th. Velerian Vaz exited in 5th place with Daniel Vivanco in 4th and Daniel Smith in 3rd. The heads-up match was between Alison Bradbrook and Nigel Daffern. Alison got her chips in with the best hand holding A-2 to Nigel's Q-9. The board only strengthened Alison's hand when it ran off K-A-6-6-8 to make Alison Bradbrook our new West London regional champion.
VEGAS 100 QUALIFIER
1st Alison Bradbrook – Bull & Chequers, Woodley
SEMI FINAL QUALIFIERS & CASH PRIZE WINNERS
2nd Nigel Daffern – Treasury, Sutton
3rd Daniel Smith – Treacle Mine, Grays
4th Daniel Vivanco – Crown, Northolt
5th Valerian Vaz – Butler's, Highwycombe
6th Richard Mason – Thatched Cottage, Maidenhead
7th Yogi Hammad – St Margarets, Twickenham
8th John Farnden – London Apprentice, London
SEMI FINAL QUALIFIERS
9th Jason Wakeling – Crown, Northolt