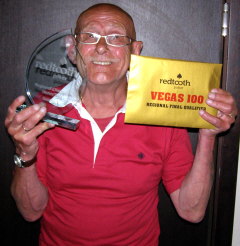 Results
1. John Ashcroft – Gwerthoner Social Club
2. Martin Press – Punch House
3. Adrian Morrish – Two Brewers
4. Lee Froud – King William IV
5. Carl Brown – Cwmbran Celtic Sports Club
6. Jay Peplow – Carpenters Arms
7. Ben Shatford – Man of Gwent
8. Charlotte Pike – New Inn
After the hugely successful Wales One final the day before, the second half of our Welsh members again packed the Grosvenor Casino in Cardiff to find another member of the very popular Las Vegas trip.
The Two Brewers in Bridgend had their moment of glory by winning the team event for the first time. They had 4 sterling performances from Jack Evans, David Treharne, Martin Cox and Adrian Morrish.
Final Table Chip Counts
81,000 Jay Peplow – Carpenters Arms
47,000 Martin Press – Punch House
44,000 Carl Brown – Cwmbran Celtic Sports Club
27,000 Lee Froud – King William IV
26,000 Martin Reeves – King William IV
23,000 Martin Cox – Two Brewers
20,000 Ben Shatford – Man of Gwent
20,000 John Ashcroft – Gwerthoner Social Club
20,000 Charlotte Pike – New Inn
13,000 Adrian Morrish – Two Brewers
A very evenly contested final table made this one impossible to call. The two players to miss out on the cash prizes were Martin Reeves in 10th place and Martin Cox in 9th place respectively. Charlotte Pike exited soon after in 8th place and was followed by Ben Shatford 7th, Jay Peplow 6th, Carl Brown 5th, Lee Froud 4th and Adrian Morrish 3rd. A very excitable John Ashcroft and Martin Press battled for the remaining prizes of a Las Vegas trip and £200. The final hand saw Qh-Kh match up against Js-8s with Martin being at risk. The board peeled off 10h-6h-4c-Ad-3h to give John the flush and the title of Wales Two regional champion.