Results
1. Neil Sutcliffe – Old Swan Conservative Club
2. Mick Griffiths – Saughall
3. Sam Snape – Lion Hotel
4. Trevor Jones – Bromfield Arms
5. Paul Gardner – Park Hotel
6. Andrew Ferguson – Lord Derby
7. Colin Clayton – Seven Woods
8. Keith Clowes – Old Wirral One Hundred
Redtooth Poker members from the Merseyside area descended onto the Genting Casino in Liverpool to battle for another North West Winner. Failing that there was a share of £500 up for grabs!
The first award of the day, the team trophy, went to a familiar venue. Previous winners the Crown & Cushion will need to price up a trophy cabinet as they took home another team event trophy. This time they were represented by Stu Whitfield, Helen Kavanagh, Anna Barker and Dave Campbell.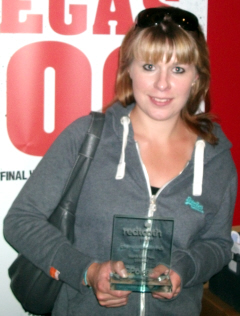 Final Table Chip Counts
141,000 Mick Griffiths – Saughall
116,000 Sam Snape – Lion Hotel
87,000 Andrew Ferguson – Lord Derby
86,000 Colin Clayton – Seven Woods
85,000 Paul Gardner – Park Hotel
50,000 Neil Sutcliffe – Old Swan Conservative Club
42,000 Colin Brown – Highfield Pub
37,000 Keith Clowes – Old Wirral One Hundred
22,000 Trevor Jones – Bromfield Arms
13,000 Paul Oldbury – Hoop & Mallet
After around 6 hours of play we were down to the final 10 players. Colin Brown soon hit the rail in 10th place with Paul Oldbury in 9th place bubbling the cash prizes. Keith Clowes left in 8th place as the first cash prize winner. Colin Clayton was 7th with Andrew Ferguson in 6th, Paul Gardner 5th, Trevor Jones 4th and Sam Snape 3rd. The heads-up match saw Neil Sutcliffe and Mick Griffiths battle for the trip to Vegas. With Mick at risk, he had his chips in the middle in bad shape as his A-2 was dominated by Neil's A-10. The board was of no help as it ran out 3-9-K-10-7 to crown Neil Sutcliffe the new North West Two regional champion.