Results
1. Jamie Richards – King & Miller
2. John Hussey – Plough
3. Wayne Wentworth – Stocks
4. Michael Snowden – Brownlow Arms
5. Lee Hall – Brownlow Arms
6. Mike Else – Mosborough Miners Welfare
7. Kathryn Higgins – Prince of Wales
8. Liam Kelk – Stocks
The impressive Genting Casino in Sheffield, their flagship casino, hosted our South Yorkshire regional final. Nearly 200 poker players packed their card room with the hope of winning a dream trip to Las Vegas.
There were three outstanding venues on the day, all supplying 2 finalists. The Hammer & Pincers, the Stocks and the Brownlow Arms were all in with a shout of the team event trophy. Eventually it was the Stocks in Sheffield that prevailed to take home their first team event trophy. They were represented by league champion Gavin McDermott, Carl Harrison and finalists Liam Kelk and Wayne Wentworth.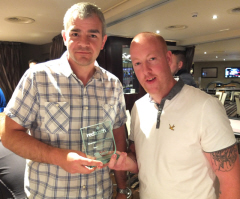 Final Table Chip Counts
263,000 Michael Snowden – Brownlow Arms
156,000 Liam Kelk – Stocks
119,000 Wayne Wentworth – Stocks
96,000 Kathryn Higgins – Prince of Wales
89,000 John Verhaert – Hammer & Pincers
63,000 Jamie Richards – King & Miller
53,000 Lee Hall – Brownlow Arms
50,000 John Hussey – Plough
48,000 Steve Parkin – Hammer & Pincers
17,000 Mike Else – Mosborough Miners Welfare
The first two players out were the two lads from the Hammer & Pincers, Steve Parkin (10th) and John Verhaert (9th). Liam Kelk went from 2nd big stack to eliminated in 8th place with Kathryn Higgins following in 7th. Mike Else steered his short stack into 6th place with Lee Hall finishing 5th, Michael Snowden 4th and Wayne Wentworth 3rd. Heads-up saw Jamie Richards battle John Hussey for the fantastic Vegas 100 prize. The final hand arrived when Jamie was dealt A-A to John's 8-7. John got a bit of help on a 10-K-9 flop but couldn't find anymore on a 2-5 turn and river. With John at risk this brought the tournament to an end and gave Jamie Richards a well deserved victory.