Results
1. Lewis Buckler – Potters Bar
2. Clint Sherratt – Catchems
3. Chris Sharkey – Maudsley Hotel
4. Chris Latimer – Smithys Forge
5. Graham Wing – Woodmans Rest
6. Warren Carless – Raven
7. Craig Lockyear – Pillar of Salt
8. Jason Hayzelden – Royal Oak
Star City in Birmingham welcomed the second half of our ever growing West Midlands region as the Las Vegas feeling was well and truely in air.
The Albion in Wolverhampton won the team event trophy but couldn't provide any finalists. They were represented by Martin Nuby, David Spencer, David Wolverson and David Loftus.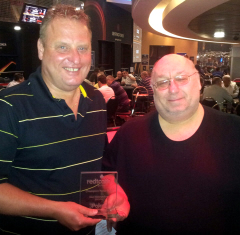 Final Table Chip Counts
168,000 Chris Sharkey – Maudsley Hotel
159,000 Clint Sherratt – Catchems
125,000 Lewis Buckler – Potters Bar
74,000 Chris Latimer – Smithys Forge
72,000 Warren Carless – Raven
70,000 David Nash – Rose & Crown
68,000 Jason Hayzelden – Royal Oak
55,000 Graham Wing – Woodmans Rest
27,000 Craig Lockyear – Pillar of Salt
A 9 player final was led by Chris Sharkey of the Maudsley Hotel in Coventry. David Nash left first in 9th place with Jason Hayzelden in 8th. Craig Lockyear finished in 7th place with Warren Carless 6th, Graham Wing 5th, Chris Latimer 4th and Chris Sharkey 3rd. This left Lewis Buckler and Clint Sherratt to contest the Vegas trip. The game was soon over after Lewis Buckler was dealt A-10 to Clint Sherratt's 10-9. Clint's flopped backdoor draw was of no use as the board ran out Q-4-5-6-3 to crown Lewis Buckler the new West Midlands Two champion.