Results
1. Rob Allen – Narrow Boat
2. Patrick Young – Jack & Jill
3. Phil Armstrong – Chessington Oak
4. Thomas Hynan – Worcester Park Royal British Legion
5. Peter Mayne – Yates
6. Simon Caller – Ash Tree
7. Glenn Brown – Woodman
8. Bradley Staight – Oaks
Stratford's Aspers Casino in the Westfield Shopping Centre hosted another successful West London regional final and would be the source of another member of the Vegas 100 trip.
The best represented venue was the Green Man in Potters Bar who claimed the team event trophy thanks to Danny Strange, Sam Jones and Ellis Titheridge.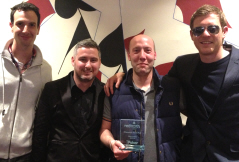 Final Table Chip Counts
181,000 Phil Armstrong – Chessington Oak
136,000 Bradley Staight – Oaks
132,000 Rob Allen – Narrow Boat
97,000 Peter Mayne – Yates
82,000 Glenn Brown – Woodman
79,000 Simon Caller – Ash Tree
74,000 Thomas Hynan – Worcester Park Royal British Legion
71,000 Patrick Young – Jack & Jill
61,000 Chris Gordan – Bar at the George
43,000 Stuart Maddox – Butler's
A 10 player final had Phil Armstrong leading the way with 181,000 in chips. With Bradley Staight in 2nd, he would be disappointed with an 8th place finish ahead of Chris Gordan and Stuart Maddox in 10th & 9th respectively. 2013 Vegas 100 member Glenn Brown exited in 7th place with Simon Caller in 6th, Peter Mayne 5th, Thomas Hynan 4th and Phil Armstrong 3rd. Rob Allen and Patrick Young were left to play for the day's top prize, a trip to Las Vegas. The final hand came when Rob Allen was dealt J-9 to Patrick's K-8 with Patrick being at risk. A board of A-3-J-8-4 was not what Patrick wanted as Rob earned the check mark to make him the new West London regional final champion. Congratulations!