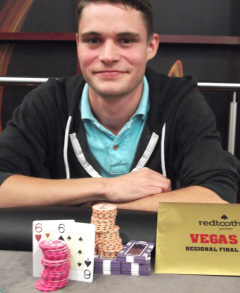 Results
1. Ashley Robins – Old Clarence
2. Mooster – Gunmakers Arms
3. David Rowberry – New Inn
4. Gareth Brown – Peacock Inn
5. Richard Thomas – Rotunda Tavern
6. Andy Henderson – Great Stone Inn
7. Kim Bradley – Bear
8. John Malpas – Journeys End
One of our longest serving hosts, the Genting Casino in Birmingham hosted the first of two West Midlands finals where another Redtooth Poker member would leave with a trip to Las Vegas.
The team event had a first time winner in the New Inn in Worcester, they just pipped the George in Warley to the post. They were represented by Anthony Stock, David Rowberry and Nathan Webb.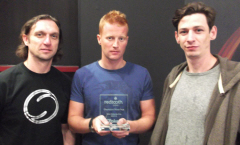 Final Table Chip Counts
232,000 Richard Thomas – Rotunda Tavern
168,000 Ashley Robins – Old Clarence
85,000 Kim Bradley – Bear
74,000 David Rowberry – New Inn
70,000 Andy Henderson – Great Stone Inn
51,000 Gareth Brown – Peacock Inn
44,000 John Malpas – Journeys End
28,000 Mooster – Gunmakers Arms
27,000 Ross Evans – Swan
Short stack Ross Evans made a swift exit in 9th place and subsequently bubbled the cash and National Final qualifying positions. John Malpas was then eliminated in 8th place with Kim Bradley 7th, Andy Henderson 6th, Richard Thomas 5th, Gareth Brown 4th and David Rowberry 3rd. Ashley Robins started the heads-up match with Mooster with a huge chip lead, a chip lead he didn't relinquish as Ashley's 6-6 held against Mooster's A-7 on a 5-2-9-5-9 board. Well done Ashley.