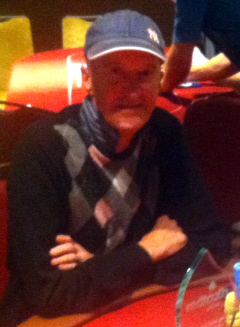 Results
1. Graham Godding – Old House at Home, Havant
2. George Purvis – Admiral Hardy, Weymouth
3. Shiela Vallance – Christchurch Conservative Club, Christchurch
4. Stuart Donnelly – Wyvern, Lee-on-Solent
5. Pascal Ryan – Admiral Hardy, Weymouth
6. Chris Scott – Old Farmhouse, Southampton
7. Andy Welsh – Black Bear, Wareham
8. Alex Arnold – New Clock Inn, Eastleigh
Gunwharf's Grosvenor Casino in Portsmouth hosted our South England regional final as another bunch of prizes were awarded to our members. 12 players in total would leave with a prize of some sort so let the battle commence!
The first prize awarded was for the best represented venue in the form of a crystal glass trophy. This award deservedly went to the Admiral Hardy who had 3 top 30 finishers in Andy Seymour, Mick Jackson and finalists Pascal Ryan and George Purvis.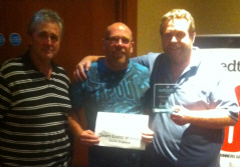 Our final table kicked off with George Purvis heading the field on 141,000 in chips and Paul Abraham the short stack on a mere 1,000! Unsurprisingly Paul was the first player out in 9th place with Alex Arnold in 8th, Andy Welsh 7th, Chris Scott 6th, Pascal Ryan 5th, Stuart Donnelly 4th & Shiela Vallance 3rd.
Our heads-up shoot out for the Vegas 100 trip was between Graham Godding and George Purvis with £200 going to the runner-up. The tournament was soon over as Graham's A-J easily got the better of George's 9-5 on a K-10-A-3-9 board. Congratulations Graham Godding!