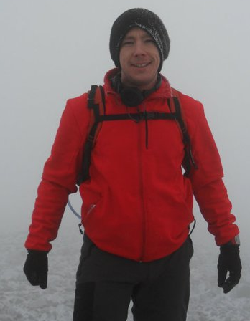 Adam Fairfield, who plays Redtooth Poker at the Mundy Arms in Heanor is hoping to raise £1,000 for two worthwhile charities. Adam will be climbing 17,000 feet to Mount Everest's Base Camp on the 25th March to realise his lifelong ambition. His training has included climbing various mountains in the UK and also walking up and down his stairs with a rucksack full of bricks! Adam tells us all about his climb below..
"On the 25th March I fly out to Kathmandu in Nepal to begin an 18 day trek to Mount Everest Base Camp. Mount Everest has always been a passion of mine, and in 2010 I was astounded to discover that you can trek to her base for a mere £1,600 (it costs £30,000 for a summit attempt) and immediately set plans in motion to achieve a life long ambition. An added bonus is that I will arrive at Base Camp on my 30th Birthday.
After the initial excitement of this discovery and making my booking, I started to think about using the trip as an opportunity to raise money for charity. Encouraged by my parents, I have been involved with and supported various charities over the years and would like to use this experience to do so again.
For this expedition, I have decided to split any money I raise between two charities: Children with Leukaemia //www.leukaemia.org/ and Derbyshire Air Ambulance //www.dlraa.co.uk/.
In 2007 I raised funds for Children with Leukaemia when I ran the New York Marathon, after a friends son was diagnosed with Leukaemia. After years of therapy he is still in a long battle with the disease: it is horrible to see the effect in the young and for this reason the charity is close to my heart.
The Derbyshire Air Ambulance is instrumental in providing air support to Derbyshire, Leicestershire and Rutland and is funded solely by charity, receiving nothing from the government. I lost a friend in a motorbike accident this year, and ever since, his family and friends have raised money to support the Air Ambulance in his honour, something I have become involved with."
If you'd like to support Adam and make a donation for either charity then you can do so by clicking on either link below.