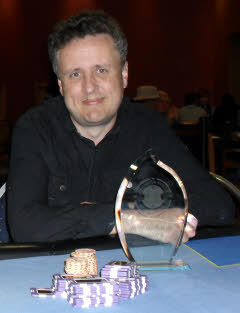 A total of 169 players from more than sixty pubs and clubs took their seats at the first quarters Regional Final at the Circus Casino, Star City, Birmingham hoping to win seats for next years National Final.
Following the certificate and trophy presentation to the individual winners play kicked off just after 2.00pm. Nobody seemed to be too anxious to be first out and we had almost reached the end of the first blind level before the cheers began when Paul Simkiss from The Pear & Partridge, Wolverhampton became the first 'bad beat' of the day.
As the afternoon progressed it looked like an early finish was on the cards as more and more players were eliminated, however as we got closer to the final table players became very cautious with no one wishing to miss out on qualification for the Nationals.
Clear winners of the Team Trophy were Matt Booker, C J O'Neill and Dave Clark from The Jolly Weavers in Banbury.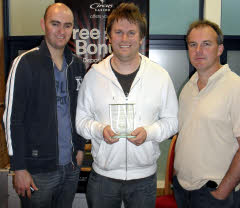 Eventually we arrived at the final table with chip stacks ranging from 20k to 190k. The players in seat order were as follows;-
Ron Fields – Rose & Crown, Hereford (45,000)
Martin Acton – Limetree WMC, Tile Hill Lane (75,000)
Dave Clark – Jolly Weavers, Banbury (20,000)
Martin Sopp – Red Lion, Birmingham (40,000)
Adam Heap – Rotunda Tavern, Cheltenham (50,000)
Jamie Carswell – Peacock Inn, Shrewsbury (175,000)
Peter Webb – Raglan Arms, Rugby (155,000)
Nick Rawlings – Talbot, Worcester (95,000)
Lynn Hodges – Talbot, Worcester (45,000)
Darren Mappley – Roebuck, Wolverhampton (190,000)
Finishing in 10th, 9th and 8th places respectively and missing out on National Final qualification were Dave, Lynn and Martin. Although Martin did leave us with £20 in his back pocket.
Other cash winners and qualifiers for the National Final were Adam Heap (7th), Jamie Carswell (6th), Peter Webb (5th), Martin Sopp (4th), Ron Fields (3rd), Darren Mappley (2nd) and the winner Nick Rawlings.
Cash Prize Winners
1. Nick Rawlings – Talbot, Worcester
2. Darren Mappley – Roebuck, Wolverhampton
3. Ron Fields – Rose & Crown, Hereford
4. Martin Sopp – Red Lion, Birmingham
5. Peter Webb – Raglan Arms, Rugby
6. Jamie Carswell – Peacock Inn, Shrewsbury
7. Adam Heap – Rotunda Tavern, Cheltenham
8. Martin Acton – Limetree WMC, Tile Hill Lane
National Final Qualifiers
Nick Rawlings
Darren Mappley
Ron Fields
Martin Sopp
Peter Webb
Jamie Carswell
Adam Heap
Team Winners
Jolly Weavers, Banbury