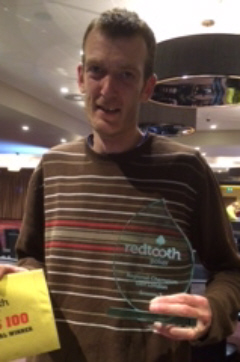 Results
1. Glen Pinch – Globe
2. Owen Simpson – Endeavour
3. Jason Cooper – 1st Bowl
4. David Bayley – King & Queen
5. Sharon McCafferty – Robin Hood
6. David McHugh – Lord Palmerston
7. Chris Wignell – Daylight Inn
8. Liam Barlow – William Camden
The fabulous Aspers Casino in Stratford hosted the first of two London finals as the East side were first in line for the shot at Vegas. Failing that they still had £500 to play for and crystal glass trophies.
The Horns Tavern in London claimed the first prize of the day, the team trophy. Their heroes were Andrew Burchill, Alison White, Steve Mulcair & Joe Toussaint.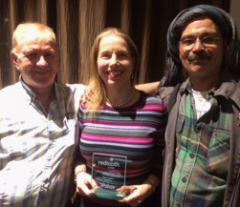 Final Table Chip Counts
207,000 Glen Pinch – Globe
158,000 David Bayley – King & Queen
149,000 Sharon McCafferty – Robin Hood
129,000 Owen Simpson – Endeavour
128,000 Liam Barlow – William Camden
102,000 Jason Cooper – 1st Bowl
99,000 Chris Wignell – Daylight Inn
88,000 David McHugh – Lord Palmerston
70,000 Steve Mulcair – Horns Tavern
39,000 Alison White – Horns Tavern
Our final of 10 players saw our team champions with two finalists in Steve Mulcair & Alison White. Unfortunately Steve was the first to be eliminated in 10th place with Alison not far behind in 9th place. Liam Barlow finished in 8th with Chris Wignell 7th, David McHugh 6th, Sharon McCafferty 5th, David Bayley 4th & Jason Cooper 3rd. Our chip leader Glenn Pinch matched up against Owen Simpson and the tournament was soon over as Glenn's 7-3 held it's slender lead against Owen's 4-2. The final board ran off Q-7-6-5-10 to make Glenn our latest Vegas member.