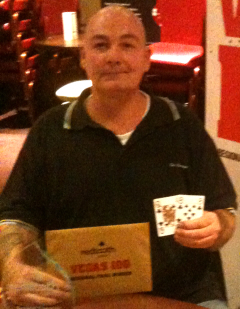 Results
1. Martin Taylor – Red Lion
2. Martin Parker – Moby Dicks
3. Garry Hill – Wyvern
4. Carl Nicol – Chestnut Tree
5. Phil Jenkins – Hop & Kilderkin
6. Charlotte Godwin – Moby Dicks
7. Ben Carter – Wyvern
8. Michael Silk – East Christchurch Sports & Social Club
Another new venue, the Grosvenor in Gunwharf welcomed our South England members for the first time. One player would leave with a trip of a lifetime to Las Vegas while the others would battle for £500 in cash and a team event trophy for the best performing venue.
The latter was the first prize awarded and with 4 top 20 finishers including 2 finalists, the Moby Dicks took down the team event. Congratulations to Ollie Perrett, Martin Parker, Paul Miles & Charlotte Godwin.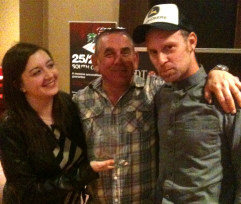 Final Table Chip Counts
143,000 Garry Hill – Wyvern
83,000 Charlotte Godwin – Moby Dicks
76,500 Carl Nicol – Chestnut Tree
71,000 Martin Taylor – Red Lion
53,500 Phil Jenkins – Hop & Kilderkin
45,000 Lee Barry – East Christchurch Sports & Social Club
42,000 Ben Carter – Wyvern
28,000 Michael Silk – East Christchurch Sports & Social Club
26,500 Martin Parker – Moby Dicks
23,000 Robbie Hawkins – Brunswick
Our final 10 players took their seats in what was to be an enthralling South England final. Lee Barry hit the rail first in 10th place and was closely followed by Robbie Hawkins & team mate Michael Silk in 9th & 8th respectively. The next player to leave the tournament was Ben Carter in 7th place, followed by Charlotte Godwin 6th, Phil Jenkins 5th, Carl Nicol 4th & Garry Hill 3rd. Bournemouth's Martin Taylor battled Weymouth's Martin Parker for the day's top prize. The final hand saw Taylor's Q-8 go up against Parker's A-2 with Parker at risk. The board ran off 8-J-9-10-J to crown Martin Taylor the new South England champion.